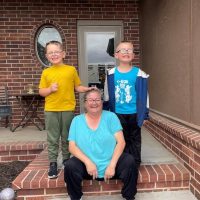 The Plummer Family
Mitzi, a wonderful grandmother, has adopted both of her grandsons – one through TFI. She couldn't be happier to share her love of them with us! Mitzi reports that her boys are doing well and staying in contact with her son, their dad, and that they get through the days with lots of love, smiles and laughter!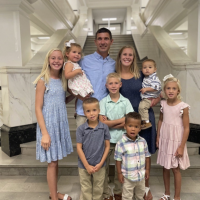 The McKee Family
Brett and Lindsay McKee began fostering with TFI in October 2015. Since then, they have fostered eight children in their home. Four of those children were reunified with their birth families, while another four were adopted by the McKees!
The McKee family continues to remain open as a foster home as they feel called to care for children in need and help others. They are a strong faith-based family who not only helps families through fostering but seeks out ways to assist others in their community. The McKee's understand the importance of maintaining connections between children and birth families and strive to keep siblings placed together.
TFI is blessed to have such an amazing family as the McKees and appreciate the family for providing a permanent home for children in need of a family. Brett and Lindsay, thank you for all you do!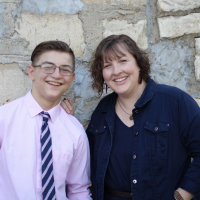 Xander's Story
I've always had a heart to foster, but the Lord opened up my heart to be open to adoption. I wasn't planning on adopting a teenage boy as a single mom, but God had different plans and I'm so glad he did. I was having difficulty finding childcare for a younger child, so I increased my open ages to young teens. A 13-year-old boy shook my hand at the door as I opened it to him on October 4, 2019.
I had no idea of the journey that we would be on, but I am so glad he was willing to open his heart also in this process. We had the "honeymoon period" like so many others experience and as that ended, a pandemic forced us to be home together a lot. And it was just what we needed. We got to know each other. He thrived in a structured environment and began excelling in so many ways that he never dreamt of.
Soon after he turned 14, he was given the choice of what he wanted for his future, and he chose adoption by me. He was ready on that day to be adopted, but we had no idea that the next 2 years would be a roller coaster.
On August 10, 2022, this now 16-year-old became my forever son and me his forever mom. We know the future will probably continue to be a roller coaster, but we are so thankful for the journey and what God has done.
– Nicki McDowell, Foster Parent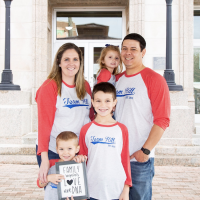 The Hill Family
Breanna and Micah received a life changing phone call at 7:30 p.m. on October 20, 2020. They were told a sibling set of three were at the DHS office needing a foster home. The children had previously been in an emergency placement with a relative, however, that didn't work out. At that time the Hills were only planning on taking placement of two children, but when they heard that three children needed a home, they knew they couldn't split them up. By 10:30 pm the children were with their forever family.
The Hill family has come a long way since that night. The 2-year-old at the time of arrival didn't speak and was in shock of what was happening, one child was a grade behind in school, and another had dealt with some serious medical issues. But with each struggle that came about, Breanna and Micah stayed strong and put the needs of their now adopted children first. The Hills are amazing people and continue to bridge with the children's biological grandparents, having visits every three to four months. Their hearts are so full that in June of 2022 they opened their home back up and are now foster parents to two more children. TFI is so thankful to have the Hills as foster parents, and their children are truly blessed to have such amazing parents in their lives!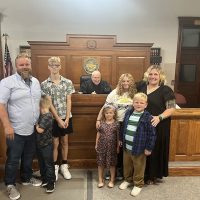 The Fisher Family
Morgan and Brayden Fisher had been in foster care for a total of 2,552 days and were officially adopted together by Jason and Kelsey Stock. Jason and Kelsey have three biological children of their own and Kelsey is a Case Manager for KVC in Olathe. Morgan and Brayden thrive in school and in the Stock home and have found their "no matter what" family.
Kelsey and Jason wanted to make Morgan and Brayden feel special on their day of adoption, so they rented a limo to Yates Center for their adoption finalization day ceremony. The children had a party after the court hearing with CASA, TFI and their new extended family.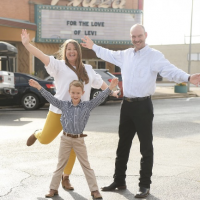 The Lindsey Family
The Lindsey family lives in Texas and recently welcomed Levi into their home in May of 2020. They are now his forever family, and we are so happy to have been a part of the process!
We are overjoyed and so excited for this sweet family. Their entire town is as well! Join us in congratulating Levi and his family!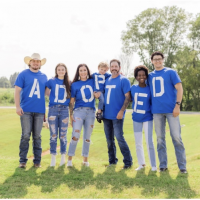 The Aragon Family
We are Adam and Brandi Aragon. We have five beautiful children, three biological, one from an international adoption and one from foster care adoption through TFI. Our journey has not always been easy, but it has been worth it!
When we decided to do foster care, we knew it was vital to have a good agency on our side, choosing TFI was the best decision we could've made. 
In December 2018 we got a phone call for a nine-day old baby boy. We said yes without hesitation. When we signed up for foster care, we were all-in no matter what that meant. If it was taking a child in for one day, one week, one-year or forever – we were in.
Our first goal was helping children reunify with their biological family. With our little guy we fought hard for that to happen, but we would soon learn that would not be the case. The goal changed to permanency and adoption. So, we buckled up because we knew it would be a long journey.
Due to Covid everything got delayed about one year, but TFI was right by our side the whole time. Finally, in August 2021 we were able to finalize our adoption, and now there is one less child in the custody of DHS.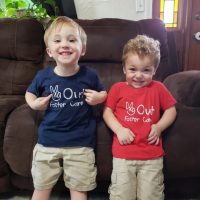 The Whetstone Family
Adrian and Mirac were adopted by Anthony and Lacey Whetsone on Sept. 15, 2020. The Whetstones are taking a trip to Alaska next year to celebrate the finalization and will eventually have a party to celebrate when COVID restrictions are lifted. We are so happy that Adrian and Mirac finally found their forever family! Read More